For the past five years, I have been extensively researching the topic of my new song. In fact, some might say that in a more general sense I've been researching this topic for over twenty years. The song is called "Hungover Dad." It investigates the paradoxical relationship between alcohol and fatherhood: drinking is bad for you and it will eventually kill you, but if you don't drink, you will eventually kill your children. Essentially, for the good of the cause, you need to sacrifice your liver. When I drink, I am both more educational and more entertaining for my children; after a couple of beers, I can read insipid children's books until the cows come home, I can wrestle even after repeated kicks to the genitals, and I can even play an entire game of Candy Land.
A couple of warnings:
1) Most people will be able to relate to the song, but devout Muslims and Mormons may not get it.
2) The song is far more realistic than the film
The Hangover.
Who could learn to count cards after a night of heavy drinking?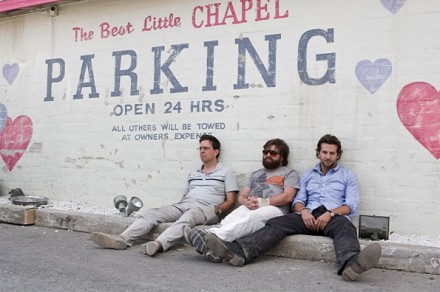 I am proud to say that this may be the most prolific two weeks in
Greasetruck
history. And for those of you wondering . . . yes, there is a monologue (which I have transcribed below as a special bonus. Also, the song is two and a half minutes long, so it's nowhere near the commitment of listening to yesterday's podcast).
Hungover dad . . . feeling bad . . .
Regretting the number of drinks he had
on his night out with the boys.
Now he's on the floor assembling toys . . .
But the batteries don't fit.
And it smells like somebody took a shit.
Changing this diaper is gonna make him puke.
It's time to play
Star Wars
-- who's gonna be Luke?
He should have stopped after two--
after two he was feeling good.
Why'd he have to go and have six more?
He couldn't fit the key in the door.
And now his wife is shopping with all her friends,
going to the outlets to exact revenge.
There was no good reason to do those shots . . .
other than he wanted to drink a lot.
And his stomach is feeling weird,
he's got to keep the toilet near.
His head is feeling worse and worse
he's drinking lots of coffee to stay alert.
Because Ethan's licking an extension cord,
and Emily's naked cause she says she's bored.
The twins are playing catch with a dead gold fish,
and the butter is missing from the butter dish.
But the joy he got, the joy he got, the joy he got is worth a lot.
The joy he got, the joy he got, the joy he got is worth a lot.
When you are old and feeling young, it's hard to stop
when the feeling comes.
When you are old and feeling young, it's easy to be a little dumb.
But now he's got to focus until the day is done:
twelve hours more till bedtime comes.
Playing board games, making lunch
this is nothing like the Brady Bunch
He had his fun, now he'll pay.
He won't ever drink again
until next Friday.
The typical hangover consists of 14 stages:
1. When you awake and declare "I don't feel bad at all." This is because you are still drunk.
2. Nausea and dizziness.
3. I'm so thirsty, but I can't convince my legs to take me to get a glass of water.
4. Headache due to dehydration.
5. Partial recovery due to coffee.
6. The shakes and the runs. Also due to coffee.
7. Recovered memories from the night before. These are best suppressed quickly.
8. Swearing you'll never drink again. Right.
9. The dummies: you can't remember names, dates, where you put your car, etc.
10. Eating greasy food to make your stomach feel better. This is almost as stupid as the amount you drank last night.
11. You attempt to nap but can't because of all the greasy food you ate.
12. Swearing you'll never drink X again, X being the particular alcoholic beverage that caused the hangover, as in I'll never do Car Bombs again. Right.
13. Narcolepsy
14. Wondering if one beer might make you feel better, the hair of the dog. Repeat until cirrhosis.