I am annoying. Luckily, this is a prerequisite for my job: I am paid to annoy sleepy teenagers . . . to pester them with questions, irk them with activities, and coerce them into reading, writing, and thinking. I've been doing this for a while, so I've gotten adept at it. But I've always recognized the subversive questions lurking beneath the surface of every high school class:
Do we really need to learn this shit? Is it really worth the time? The frustration? Calculus? Seriously? Organic chemistry? Sex education? When am I going to actually use any of this crap?
We attempted to address these epistemological questions with something my friend Kevin invented: the
Life Quiz.
This is a set of ten questions that don't count towards your grade, but instead determine how you are doing at
seeming
to be educated. Art, science, current events, and common knowledge. Major events in history and psychology and economics. Significant sports stuff. No trivia. Just information you should actually know. Or probably should know. Who knows? I encourage the students to pick a partner of similar intellect and bet some push-ups. Then I pose some questions: what is the boiling point of water? How long ago did the dinosaurs live? What is the population of New Jersey?
You don't have to nail the answer . . . it's like horse-shoes and hand-grenades. Close enough counts. Within ten percent.
Sometimes the questions are broad: name a jazz musician and their instrument. Sometimes they are specific: what does it mean to "bury the hatchet." And sometimes they seem really obvious: what are the seven continents?
You end up with some surprising answers, and some surprising logic as well. And plenty of discussion about epistemology. What should we have rattling around in our brain? What do you need to know? Do you need to know anything?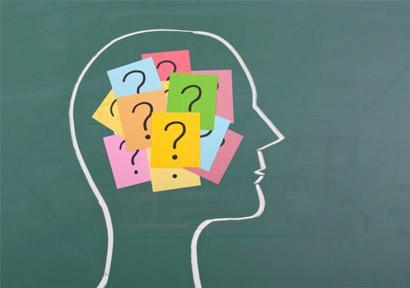 The brain is a counter-intuitive instrument. It's not like a computer-- your memory doesn't fill up. In fact, the more things you know, the better your brain works. The more connections you have, the more connections you make, and the more you understand. So despite the ubiquity of Google, I think there is some value in knowing stuff. The question is: what?
A few of us were so enamored with this theme, that we decided to make a podcast about it. The concept of the show is simple-- it's ostensibly a quiz show, but it's the anti-Jeopardy-- one of us asks seven questions, and the other participants try to answer them. Or argue about them. Or declare them stupid. Stacey, Cunningham and I are the hosts, but we plan on having lots of guests. On the plus side, our voices are easily discernible and we cover three decades: Young Cunningham is in her twenties, Stacey is in her thirties, and I am forty-five. Not only do we ask questions and discuss validity, but we also crack a lot of jokes. On the minus side, I am annoying. I try not to be judgmental, with varying degrees of success.
We're calling the show
The Test
and we've recorded two episodes. We haven't had any guests yet, but they are coming soon. If you want to be on, just ask . . . I think we can even Skype you in. While we're certainly not pros at this yet, we've got original background music, an audio montage, and a theme song.
Good luck and have fun . . . you can play along at home, but no studying . . .