My wife asked an interesting question while we were watching Serena Williams destroy a tiny old Japanese lady at Wimbledon (the match had a professional wrestling quality about it . . . it was hard not to root for Date-Krumm, despite what happened at Pearl Harbor). My wife said: "Is tennis the only sport where there is no coaching at all?" I brought up golf, but she reminded me that golfers -- professional ones at least -- have caddies to consult with.
Officially, tennis players aren't supposed to receive
any
coaching during play -- it's illegal. This is a controversial issue . . . my favorite purported breach of this rule is when
Maria Sharapova's father was allegedly "holding up pieces of fruit"
during a match. Some folks deemed this "coaching," as he was passing his absent-minded daughter the message to eat something between sets (fruit, I suppose). Reminds me of this fabulous high-fructose bit of athletic instruction:
I wasn't able to find much information on how much coaching is allowed during different sports, and how influential this coaching is, so I will take some uneducated guesses. I'm not talking about the training before the event -- I'm speculating on the amount and influence of coaching
during
the event
.
I'll try my best to come up with a half-baked continuum, and the the real sports people can correct me in the comments.
Short of giving someone a lesson, I can't see how coaching is going to help all that much during a tennis match anyway (aside from reminding someone to eat a banana so they they don't get a calf cramp . . . and I'm sure there would be a lot of volunteers willing to rub Maria Sharapova's calf cramp while feeding her a banana).
I think mid-match tennis coaching might go like this:
Try hitting your first serve in the little box more often! Don't hit your backhand into the stands anymore! Stop staring at Ana Ivanovic's legs and focus!
Golf is similar -- you shouldn't screw with someone's swing when they are about to engage in medal play. Years ago, I was a high school golf coach. I once said this to a player, just before he teed off:
Hey, Brian? Quick tip?
If you return your right elbow to your sternum on your follow through, and shift maybe twenty percent more of your weight to your left foot on impact, you might corral that slice you've been dealing with . . . or if that doesn't work, then it might be that you need to loosen your grip and turn it a couple millimeters clockwise . . . and this is a tough three-iron over the water, you don't want to start the match with penalty strokes, so forget about the drink and think good thoughts, mainly: elbow, sternum, weight-shift, loosen that grip, and most importantly . . . don't lose your tempo! Good luck! Wait, wait! Step back! I don't think the club-face is aligned properly with your stance!
Obviously, the results were disastrous.
I am in the middle of David Foster Wallace's masterpiece
Infinite Jest,
which is mainly set at a fictitious high-caliber tennis academy. Hal Incandenza has to break some bad news to his "Little Buddies," who he must mentor through the program; he tells them that tennis is a sport where "you are deeply alone." Every player knows where he stands in relation to all the other players. There is no community, only existential alienation. And thus it is fitting that the tennis player must remain alone and isolated on the court, without the aid of a coach or the comradeship of a caddy or trainer.
Golf is a bit more collegial. The introduction of actual coaching would make it interminably slow, and I suppose it's lonely when you're hitting the ball very poorly, but otherwise, it's a good walk spoiled for everyone out there. You're all in it together against the course. And you've got your caddy.
I am guessing that the coaching that happens during a boxing match is fairly useless, even if your trainer is giving you really specific and excellent advice, such as:
Just make sure he hits you an even number of times, so you don't end up with amnesia.
With the roar of the crowd and the whump of the gloves hitting your noggin, the best coaching is still going to sound like this:
Wakka woof woof wakka whoom!
Or perhaps it sounds more like the adults talking in
Peanuts
. I will have to do more research on this subject. But in between rounds, you do get a minute to offer your sage wisdom about the sweet science, as you shove vaseline up your fighter's nose.
Coaches probably have even less influence during a wrestling match, as the breaks between rounds are shorter and there's even more lactic acid involved. The best thing a wrestling coach can yell at his young charge is:
Make sure you wash those mat burns with peroxide! Otherwise, you'll contract a Staph infection!
I coach soccer and I will admit something: there is no correlation between what you yell on the sidelines and what your players do on the field. If you didn't teach them ahead of time, it's too late. The soccer field is big, and the players are very far away from you. I spend my time talking to the players on the bench, to avoid behaving absurdly. I occasionally turn and look at the game, but the ball is invariably out of bounds.
I have also coached basketball and this is a different story. Things happen fast, so you constantly feel as if you're going to have an anxiety attack, but you can change defenses and call plays. You can't actually shoot the ball, but you can try to get your team to give the ball to the person you want to shoot it. And then you can jump up and down if he makes it. You can also influence the official by throwing a chair at him.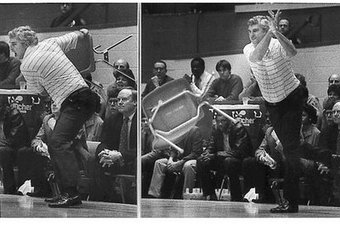 I've never managed a baseball team, but I recognize that the game proceeds at such a lethargic pace that the coach has time to do all sorts of things (as do the players . . . in what other sport is there enough time to give someone a "hotfoot"?)
No one will debate the great significance and influence of the High School Chess Coach.
And then, of course, there is football. These coaches earn their money. They are the
auteurs.
Fellini. Godard, Bergman, Parcells, Gibbs, Landry, Shula, Lombardi, Pacino. They communicate with the quarterback by radio. They get images from upstairs. They put in the "nickel back." They use "the dime." They invent the spread offense. They decide to fake the punt.
I played Intellivision football when I was a kid, and the play calling was rudimentary. 9-6-2-4 was my favorite. My skills bottomed out with Tecmo Bowl and the superhuman Bo Jackson avatar. Madden confounded me, and my younger brothers would destroy me because they could call and understand the plays. No amount of juking and spinning could erase this truth. And thus, I am happy as a soccer coach . . . or as they are more commonly known, a soccer trainer. You train the players, and then let them loose on the field to do what they will. And, miracle of miracles, you get paid almost as much as the football coach!