During the dramatic 3-1 U.S. victory over France in the semi-finals of the Women's World Cup yesterday, there was a certain play that captured my imagination. And it was not Abby Wambach's decisive header. In fact, I am sad to report that it was actually a play by a
French
player.
U.S goalie Hope Solo had scooped up yet another long range French shot, and attacking midfielder Gaetane Thiney noticed that Solo was holding the ball in one outstretched hand, like she was hefting a melon at the grocery store. Thiney scampered around Solo, staying out of her sight, and then headed the ball out of Solo's over-sized glove towards the goal. The Yahoo Eurosport live blog reported this about Thiney's play: "
Thiney attempts to head the ball out of Solo's one hand as the keeper prepares to belt it down field.
Very cheeky
. A nice attempt but the ref gives a free kick." While there is
some debate
over whether this play was legal or not, it appears the referee made a good call. Check out the rule below. I've bolded the important stuff.
12.16 GOALKEEPER POSSESSION OF THE BALL
The goalkeeper is considered to be in control of the ball when the ball is held with both hands, held by trapping the ball between one hand and any surface (e.g., the ground, a goalpost, the goalkeeper's body), or holding the ball in the outstretched open palm. Once established, possession is maintained, when the ball is held as described above, while bouncing the ball on the ground or throwing it into the air. Possession is given up if, after throwing the ball into the air, it is allowed to hit the ground.
While the ball is in the possession of the goalkeeper, it may not be challenged for or played by an opponent in any manner. An opponent who attempts to challenge for a ball in the possession of the goalkeeper may be considered to have committed a direct free kick foul.
Still, I thought Thiney had a lot of guts to challenge Hope Solo in this manner. I saw it as a David and Goliath moment, the slender and petite Thiney pestering the intimidating giant. But when I looked up the size of the players, I found that Solo is only two inches taller than Thiney. Perhaps something else was at play in my mind. Perhaps the play captured my imagination not because it was clever and "cheeky." Perhaps it captured my imagination because Thiney looks like this:
After the play, I lost focus on the game-- which is easy enough to do, it is soccer after all-- and instead began to fantasize about what I would say if I ran into Gaetane Thiney in Paris (a city I have no desire to visit). In my fantasy I was fluent in French (a language I have no desire to learn) and it went down like this:
Dave: Gaetane Thiney! Bonjour! Je n'oublierai jamais lorsque vous dirigé la balle du barbare que géant espère Solo de part. C'était très intelligent et courageux.
Thiney: Merci, je suis flatté que vous comprendrez que jouer.
Dave: Nous pourrions peut-être obtenir un café et un croissant.
Thiney: Oui. Nous pourrions siéger sous la Tour Eiffel. Il est long et dur et instrument phallique.
Dave: Ce serait parfait. Hey, est-ce pas David Sedaris et son petit ami, Hugh? Bonjour David, aimez votre travail. Hi Hugh!
David Sedaris: Hi Dave. J'aime votre travail. Je souhaite Je pourrais écrire sentences ainsi comme vous.
Dave: Merci les gars, vous êtes trop aimable. À bientôt.
Thiney: Dave, je vous trouve très sexy.
And then Abby Wambach's terrific goal snapped me out of my fantasy just before the good part . . .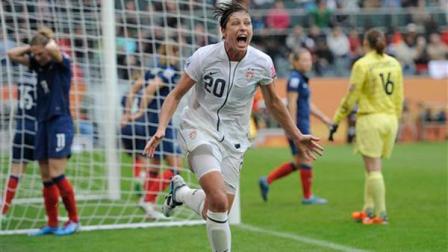 I have no problem admitting that attractiveness influences my rooting while I'm watching women's athletics. I was far more partial to Gabriella Sabatini than I was to Martina Navratilova. But here is the question I have for the female readers of
G:TB
: does this make me sexist? Or simply heterosexual? Do women find themselves having the same emotions when they watch men's sports?
I've had no problem rooting for some terrifically ugly male athletes: Patrick Ewing and John Kruk and-- more recently-- Dirk Nowitzki-- but when it comes to watching women play, I can't be so blind to aesthetics. I also admit that when I take a hardcover book out of the library, and the author is female, I sneak a peek at the inside of the back cover to see if the author is cute. I don't do this when it's a male author. So is this wrong? Or is it simply human nature? And then there is the real monkey wrench . . . why does gay ex-pat author David Sedaris and his boyfriend Hugh show up at the end of my fantasy? And why am I so excited that they each paid me a compliment?
Here's a translation of my fantasy conversation, in case your French is as weak as mine.
Dave: Gaetane Thiney! Hello! I'll never forget when you headed the ball out of that barbaric giant Hope Solo's hand. That was very clever and brave.
Thiney: Thank you, I'm flattered that you appreciate that play.
Dave: Perhaps we could get some coffee and a croissant.
Thiney: Yes. We could sit beneath the Eiffel Tower. It is long and hard and phallic.
Dave: That would be perfect. Hey, isn't that David Sedaris and his boyfriend, Hugh? Hi David, love your work. Hi Hugh!
David Sedaris: Hi Dave. I love your work. I wish I could write sentences as well as you.
Hugh
: It's true. He reads
Sentence of Dave
every day and just laughs and laughs. Me too.
Dave: Thanks guys, you're too kind. See you later.
Thiney: Dave, I find you very sexy.