When I was young, we were all in agreement about who was cool.
"Sportos, motorheads, geeks, sluts, bloods, wastoids, dweebies, and dickheads" all agreed with Grace the secretary. They knew that Ferris Beuller was a "righteous dude."
We were sure this guy was cool too-- or at least cooler than Principal Vernon . . . although in retrospect, the whole "Don't mess with the bull young man, you'll get the horns" line seems pretty cool now.
The opening ten minutes of
The Breakfast Club
are one of the few things from the 80's that pass the nostalgia test. What is the nostalgia test? How do you pass? Something passes the nostalgia test when the actual thing-- movie scene, TV theme song, one hit wonder, novelty toy-- is better than your memory of the thing. I don't think
Stretch Armstrong
would pass the novelty test. I was discussing this topic over the long weekend with a friend, and we wondered if
Wrath of Khan
would pass. Doubtful. But Bender versus the world passes. Here it is, if you've forgotten.
And we knew high school would have been much better if we were more like
this guy . . .
There was a consensus on what defined cool. You exhibited grace under pressure, you always thought of the perfect thing to say, and your hair defied gravity. You were descended from Shakespeare's Petrucchio. You were
Mike Damone
. Wherever you were, that was the place to be. And if you were making out, you played side one of Zeppelin IV. You were Detective Axel Foley. You were Teen Wolf.
But over the years, something happened. Cool changed. In fact, it very may may have turned itself inside out. For example:
The next movie, which came earlier, probably helped pave the way for a guy like Napoleon Dynamite. And the soundtrack is so great that it doesn't matter that Max Fischer is a ridiculous dweeb with disturbingly shaggy eye-brows. He is somehow cooler than Miles Davis. I would be cooler if MY life had a great sound track.
You may have empathized with Anthony Michael Hall (The Geek) in
Sixteen Candles
, but you certainly didn't think he was cool. And you knew where you stood in school; you knew if you were
Farmer Ted or Jake Ryan
.
But these days, if you conform to the old archetype of cool, you might be headed for disaster. The director might punish you for looking good, being popular, and having hair so beautiful that it is insured for ten thousand dollars.
We can lament the Death of Cool, but, honestly, it was unrealistic and unattainable. It made most of us feel lame and spastic. The new cool is more realistic, less sarcastic, and, most importantly, it gives teenagers hope. And so now we have these guys to aspire to . . . the new paradigm of cool.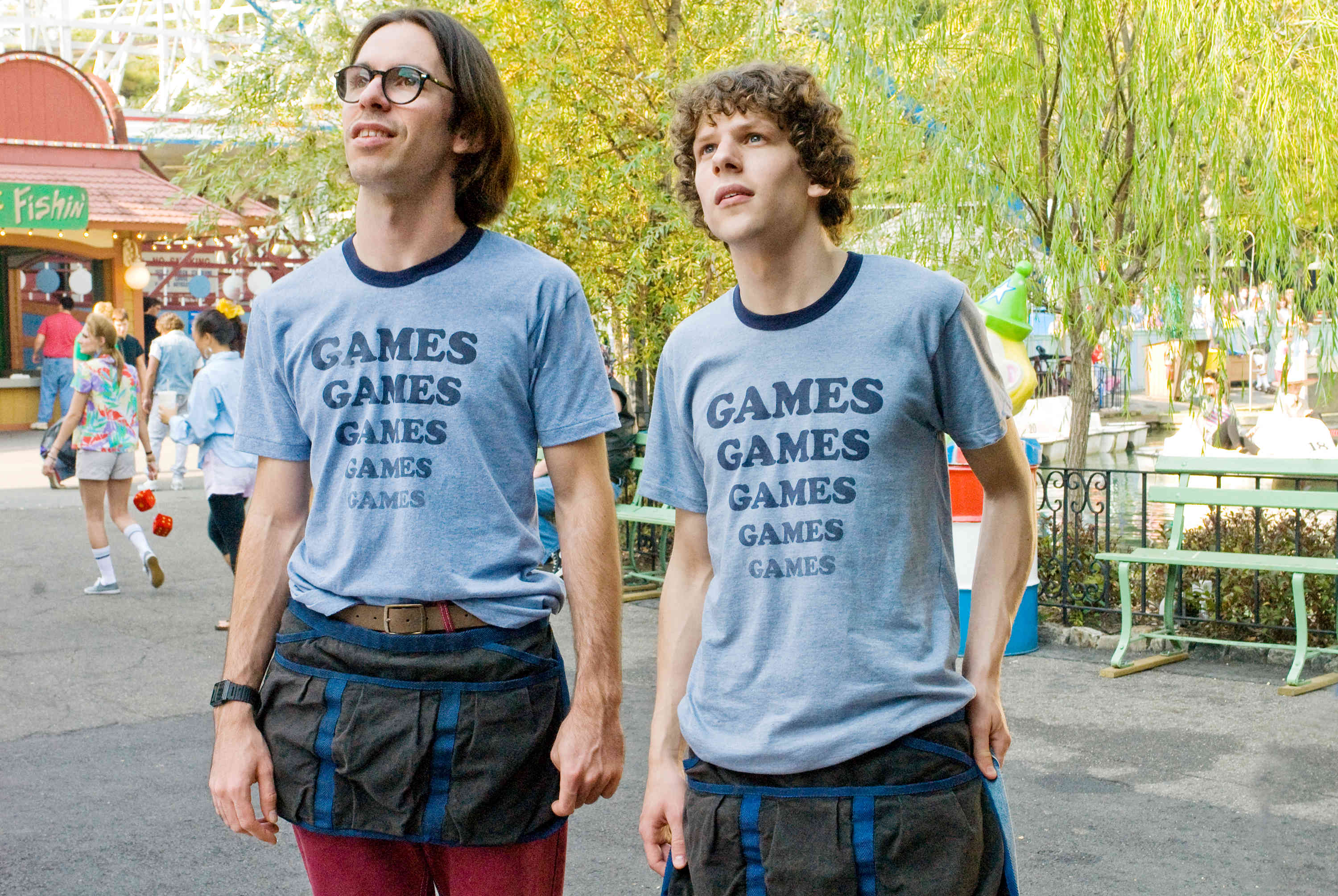 Adventureland
exemplifies the death of the old cool. The ostensibly coolest guy in the movie, Mike Connell, isn't really cool at all. He never jammed with Lou Reed. His coolness is a lie. Lou Reed was from a distant, cooler time, and these kids have no access to that. They come to accept that they are just awkward teenagers with dysfunctional families trying to make sense of their lives.
And though it is nerdy, the new cool is not sexist.
I'm not sure what to make of this new paradigm, but there is no denying it has been the catalyst for some great movies. What I am sure about, though, is this: if someone told them the news, Vinnie Barbarino and Arthur Fonzarelli would roll over in their graves.
If they were around today, they'd probably hang out with this guy.