For eight years, psychology professor Daryl Bem has been running several common psychology experiments backwards, and he is about to publish a paper in the
Journal of Personality and Social Psychology
that essentially says that
people can see into the future
. He claims that the evidence is statistically significant, and while fellow psychologists find his claim to be "ridiculous," they say his methods and experimental design are in "good order." If you are really into his findings, you can read a
PDF
of his paper, but honestly, I'm sure there is some reasonable explanation. Perhaps this is because I am
skeptical towards all things paranormal
, and with good reason. I have issued several challenges to the netherworld to manifest itself, and the netherworld has disappointed me time after time.
Honestly, I'm not interested in his findings. Psychologists have already
attempted to replicate his experiment
and failed. What I am interested in are his methods, because-- despite being skeptical of his results-- psychologist Joachim Krueger, of Brown University, claims that running these experiments backwards is a "stroke of genius." By the end of this post, you will find out who the real genius is, and it is NOT Daryl Bem. But first, let me explain what it means to run a typical experiment "back to front."
Psychologists call subliminal influence "priming." In a typical experiment on "priming," the subject is momentarily flashed the word "ugly" and then shown the picture of a cute and cuddly kitten. Just seeing the word "ugly" makes the subject take longer to decide the kitten is cute. The subject decides the kitten is "cute" faster if he is first shown the word "cute."
Bem ran this experiment backwards: he showed the subject the picture of the kitten first, and then showed them the word, and for some bizarre reason, the word shown
after
the subject viewed the kitten had some influence on how long the subject took to decide the kitten was cute
before
he saw the word. Weird . . . I suppose. But this isn't what is important for G:TB readers. We are not a paranormal psychology blog. The following experiment is the one I am interested in. And this is a direct quotation from
this story
in NewScientist.
In another test volunteers were told that an erotic image was going to appear on a computer screen in one of two positions, and asked to guess in advance which position that would be. The image's eventual position was selected at random, but volunteers guessed correctly 53.1 per cent of the time.
Bem is not the first person the run this experiment! I should not reveal this, as I was sworn to secrecy by my sacred brotherhood, but in the name of science, I am going to make an exception. Twenty-two years ago, during my fraternity initiation (and this can be corroborated by several other G:TB staffers) after much sleep deprivation and white noise (which oddly replicates a less successful paranormal experiment called the Ganzfield Experiment) we were asked to make similar pornographic predictions!
We didn't have computers back then, so the set up was analog: a brother would read an excerpt from Penthouse Forum and stop before the end, and we would have to predict what sexual acts the narrator would participate in. If our prediction was wrong, we would have to do push-ups and such. But we were usually right! I swear to you this was true, and, as I recall, the results were more than statistically significant.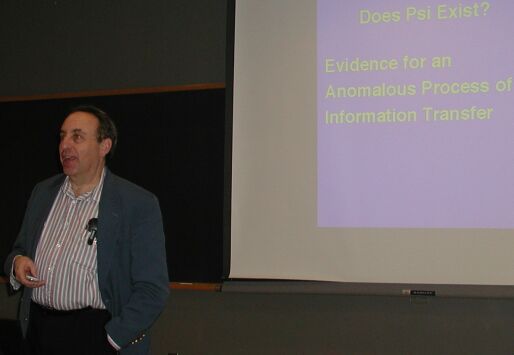 So Daryl Bem, it is time for you to give credit where credit is due. Until you acknowledge the William and Mary Chapter of Pi Lambda Phi (which is now defunct, of course, due to various hazing infractions) as the original "genius" behind your clever experiments, your academic reputation will be sullied. Come clean now. Perhaps you were eavesdropping on our fraternity porch, your ear pressed to a newspaper obscured window, listening to "the Whaler" read salacious letters to exhausted condiment covered freshman and you noticed that despite our dire predicament, we kept nailing whether the narrative would end in fellatio, position number 69, or things too perverse to put in this blog. All we are asking for is a citation. We await your reply.